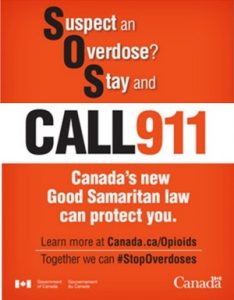 Overdose is very real and prevalent across Ontario. In this province alone, more than 1,200 people died from overdoses in 2017. Harm reduction practices such as Overdose Prevention Sites, Supervised Consumption Sites and the proper use of Naloxone are integral parts to the response.
August 31st 2018 marked International Overdose Prevention Day, and we feel a profound responsibility to acknowledge and talk about a law that many of us are not aware of, yet something we should all understand – the Good Samaritan Drug Overdose Act.
On May 4, 2017, The Good Samaritan Drug Overdose Act was introduced as a law in Canada to provide legal protection for people who experience or witness an overdose and to encourage them to call 9-1-1 for help.
In working within a community such as York Region where there are no Overdose Prevention, Supervised Consumption Sites or many harm reduction services available, the Good Samaritan Drug Overdose Act and the proper use of Naloxone plays an integral role in saving lives.
What can you do? Educate yourself and help out within our communities, get trained, and carry a Naloxone kit. Be prepared. Advocate and raise awareness.
Below is more information on the Good Samaritan Drug Overdose Act
The Good Samaritan Drug Overdose Act can protect you from:
Charges for possession of a controlled substance (i.e. drugs) under section 4(1) of the Controlled Drugs and Substances Act
Breach of conditions regarding simple possession of controlled substances (i.e. drugs) for:
Pre-trial release
Probation orders
Conditional sentences
Parole
This law applies to anyone who seeks emergency support during an overdose. This includes the person who is experiencing an overdose. It also protects the individual who seeks help, whether they stay or leave the scene of the overdose before help arrives. Additionally, it protects anyone else who is at the scene.
So do NOT be afraid of getting help if you think someone is overdosing! You can act swiftly and responsibly.
For more, you can visit: https://www.canada.ca/en/health-canada/services/substance-use/problematic-prescription-drug-use/opioids/about-good-samaritan-drug-overdose-act.html
By Arpa Azmila
Arpa is the Harm Reduction Manager with the AIDS Committee of York Region.