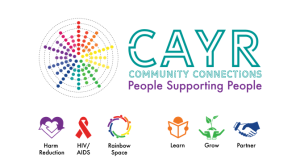 Our new name and brand reflects the agency's range of services and core values
The AIDS Committee of York Region is now known as CAYR COMMUNITY CONNECTIONS with the tag line "People Supporting People" to better reflect the current and expanding services provided by the agency.  The brand refresh is the result of extensive consultations and engagement with a broad range of key agency stakeholders.
"Our new name and visual brand more clearly convey both the range of services we offer and the core values underlying our community work," says Executive Director Vibhuti Mehra. "The new look and feel is also the foundation for our expanding programs and services and a way to reduce barriers for people who access them."
Stakeholders involved in the rebranding process have confirmed that the new visual brand is bright and welcoming which helps to remove some of the stigma that can be associated with accessing social service agencies. "In consultations with our stakeholders, it was clear that our agency is seen as a "caring" and safe place by the people we serve. This key insight was fundamental in the rebranding process that led to the choice of the proposed name," says Vibhuti Mehra.
The word "CAYR" is phonetically pronounced /keə(r)/ and is based on the word "CARE" as in "to care for" persons served by the agency. The last two alphabets of "RE" in "CARE" have been replaced with "YR" to make the word "CAYR" to emphasize the fact that the agency serves the community of York Region.
The word "CAYR" combined with the words "COMMUNITY CONNECTIONS" accurately reflects the agency's mission of creating safe, confidential, and inclusive spaces and services in York Region where people can access dignified support and meaningfully engage in self-determined pathways to well-being.
The tag line "People Supporting People" is reflective of the agency's core value of greater and meaningful involvement of people with lived experience in all aspects of our work.
"Being 'caring' is how our staff, board members, volunteers, and community partners interact with those we serve," says Gavin Demonte, CAYR Board Chair. "Given that stigma, discrimination, and social isolation are significant risk factors and barriers to wellness for the key populations served by our agency, we are seen as a space where people can be free of stigma, "cared" for, and connected to the community supports they need."
CAYR COMMUNITY CONNECTIONS envisions an informed, healthy, stigma-free and compassionate community.
We offer specialized and combined programs for:
People living with HIV/AIDS (newly diagnosed to long-term survivors)
People affected by or at risk of HIV and Hep C
People who use drugs
People who identify as 2SLGBTQ+
People supporting vulnerable and marginalized community members
CAYR was originally founded as the AIDS Committee of York Region in 1993 and formally incorporated as a registered charitable organization in 1996.
We invite you to stay connected with us at www.cayrcc.org