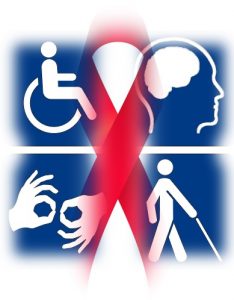 People with disabilities are at least as vulnerable to HIV as others, and people with HIV often live with conditions (including HIV) that can result in periods of episodic disability. On Friday December 2nd 2016 Realize (formerly the Canadian Working Group on HIV and Rehabilitation) hosted a webinar to celebrate both World AIDS Day (December 1st) and the International Day of Persons with Disabilities (December 3rd) in order to recognize this intersection of both HIV and disability. Entitled "HIV and Disability: Intersections of Access", the webinar was presented by Kate Welsh, Realize's  Project Assistant for Episodic Disabilities Initiatives, in order to raise awareness of the interconnections and gaps between the disability and HIV communities.
While working at Realize this past summer, Kate undertook an environmental scan of websites belonging to disability and HIV community organizations in the Greater Toronto area to assess whether or not disability organizations offered any HIV programs and if HIV organizations offered any programs for people with disabilities. Her findings were definitely a wake-up call. Out of 16 disability organization website's reviewed only 1 mentioned offering any HIV programming (in this case, it was HIV testing). And out of 13 HIV community organization websites' reviewed only 1 offered any programming that mentioned people with disabilities. Considering that people with disabilities can also live with HIV and people living with HIV might also experience disabilities, this seems like a pretty big gap. I should mention though that this was a preliminary scan, and the results are limited in that any of these organizations might offer more in the way of programming, but not necessarily list it on their website.
However, within a UN policy context of UNAIDS' 90-90-90 Goals as well as and the Sustainable Development Goals that call for the eradication of HIV by 2030 (SDG 3.3) the gap between disability and HIV service organizations is a bit of a worry. It's hard to see how, for example, the 90-90-90 goals might be met without offering HIV services that actively include people with disabilities.
Realize will continue to explore this work in the coming year, but in the meantime here is a tip. If you are part of an HIV community organization, advocate for putting information up on your website that says whether your office location is accessible or not. This could even be pretty short but should ideally include if there is a ramp to get into the building, door opening buttons and an accessible bathroom. And if you don't have an accessible space, it is still really helpful to state this up front on your organizations' website so that someone with a disability doesn't get all the way to your door and then find that they can't get in.
We hope to be conducting even more research in this area in the future and aim to develop resources that will encourage more collaboration and partnership between the HIV and disability sectors.
By Wendy Porch, M. Ed
Manager, Episodic Disabilities Initiatives at Realize
For more information about this work, or if you have any questions please feel free to contact Wendy at [email protected]