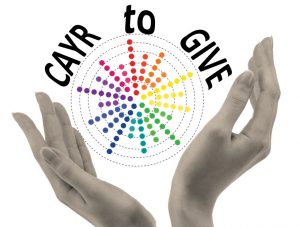 Even in these times of uncertainty and restlessness, around various corners you can still find enormous amounts of kindness being given.
Working in non-profit, along with volunteering to lend a hand, and even outside of that, I have seen tremendous acts of kindness pop up every so often. But during this time of crisis, this pandemic, when folks are struggling themselves, those acts of generosity, they continue and become so meaningful. It can be mind-blowing; it is truly appreciated; it is simply helpful; and it can be more impactful than you realize!
I am always impressed with the volunteer involvement I have seen at CAYR, but also the donations that have helped us with things like our Compassion Fund or Care Programs. But as mentioned, in this time of emergency, the word "impressed" might not cover it.
March 16th, 2020, in the early afternoon hours, is when CAYR COMMUNITY CONNECTIONS, along with many others, shut our office door with everyone heading home. We immediately figured out ways for staff to work from a distance and continue the supports we offer, only virtually as opposed to in-person. Things, for the most, seemed to be going ok; but CAYR had to come to terms with the sad news that our big fundraising event, A Taste for Life  had to be cancelled.
We could sense the financial hardships, for us and for others; Individuals; businesses. What was going to happen?
And then, the sinking sun changed directions.
Monthly donations came in, generous amounts. Partner Giving became a thing. The response to our donation page off of our website as well as our Community Campaign Profile  saw much traffic.
People were donating;
Restaurants were donating;
Organizations and other charities;
Staff and Board were thrilled at the thoughtfulness.
I can only encourage folks to keep it up when you can, and then say a BIG thank you. It is appreciated, greatly needed, and well used to support many.
A one time donation, or becoming a monthly donor, can make all the difference.
CONSIDER DONATING TODAY: CAYR Community Campaign
By Mark Koning
Mark is the Manager of Communications & Operations with CAYR COMMUNITY CONNECTIONS. Mark is also an Author and Blogger of Challenging Barriers and The BIST Blog. (Brain Injury Society of Toronto)