The Communications and Administration Coordinator at the AIDS Committee of York Region, a role held by Mark Koning, is viewed by him as being challenging, insightful and enjoyable all at once. Two other very important components to any non-profit organization that Mark also oversees is the volunteers and student placements.
A portion of this position is also all about connecting and networking with various people from the community as well as with other agencies. He says, "When I came here in September 2014, it wasn't until one full year of running through the cycle of events, programs and community engagement that I truly understood the impact that ACYR really has."
Mark shows a strong work ethic toward his goals but also takes his time to accommodate for his learning disability acquired from a brain injury sustained in his early years. He adds, "I choose to put in a little extra effort and work at my own pace because I don't want to rush in any given task. Additional time allows me what I need to understand and focus, to give the work required what it deserves. " From filing, helping the staff to keep organized with various programs, and computer work, to organizing events (such as World AIDS Day) and running awareness campaigns (like Red for Change), this position keeps Mark busy… but also happy to be involved.  "I have Vibhuti (Executive Director of ACYR) to thank for allowing me this opportunity. She has always been very open and accepting, and that is very much what this agency is all about".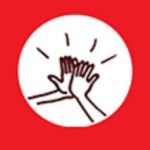 That acceptance and ACYR's doors being open to everyone is what is most motivating to Mark. Seeing growth for this organization and the community, learning, growing and making a difference makes his work days all the more worth it.
By Zahra Rajwani
Zahra was a student placement with the AIDS Committee of York Region up until mid-April of this year, she came to us via the Seneca College Social Service Work program. She also participated as a committee member of the Youth Sexual Health Action Committee