From the Board of Directors, CAYR Community Connections
Dear friends and supporters,
After 7 years at the helm of the CAYR Community Connections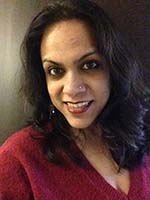 (previously AIDS Committee of York Region), the Board of Directors, with a mix of sadness and gratitude, announces Vibhuti Mehra's departure as Executive Director of CAYR Community Connections (CAYR). While we will miss her and her inspiring leadership, we wish her the best of luck in her new endeavor as Director of Programs at Elizabeth Fry Toronto. Vibhuti's final day at CAYR will be March 20, 2020.
Vibhuti came to the organization in 2013 and almost immediately entered into leadership capacity taking on the mandate to deliver impactful community programming, raising awareness of the organization not just in York Region but outside of those boundaries as well, scaling operations of the organization, and building tremendous relationships with our funders, community partners, and other key stakeholders. In her time, Vibhuti was involved in significant accomplishments for the organization, such as:
Fostering agency growth through diversified fundraising strategies to support community-based research, innovative program development, and agency capacity building.
Rebranding agency and expanding scope of practice to meet community needs by strategically developing two new region-wide programs – Rainbow Space for 2SLGBTQ+ community members and Harm Reduction for people who use drugs in York Region.
Building strategic and formalized collaborations with diverse health and social service agencies in York Region to enhance greater access to dignified, stigma-free, harm reduction based, and trauma-informed support for people we serve.
Implementing new organizational policies, systems and supports to create opportunities for greater and meaningful involvement and engagement of people with lived experience in the design, delivery and evaluation of our programs and services.
Partnering with the Board to lead the agency through a fresh reboot of its Strategic Plan ensuring that the organization was scaled to appropriately cover gaps in services and programs desperately needed in the Region.
Over the next few months, we will be conducting a search to find the new CAYR Executive Director. During this transition period, it is our priority to find the best individual to lead, while still maintaining a stable and effective organization. We will share the job announcement soon and ask for your help in identifying candidates who can help CAYR continue along this successful trajectory.
Again, we cannot thank Vibhuti enough for the dedication, passion, enthusiasm and motivation she has given CAYR over the past 7 years. She will be greatly missed by the staff, Board, volunteers, service users and partners alike. We look forward to following the success of her career and are hopeful and excited for the next chapter of CAYR as we continue to offer valuable programs and services in York Region. If you have any questions or concerns during this transition process, please do not hesitate to reach out to me directly at [email protected].
Sincerely,
Gavin Demonte
Chair, Board of Directors
From Vibhuti Mehra, Executive Director
After 7 of years with CAYR Community Connections (CAYR), I recently submitted my resignation to the Board of Directors in order to pursue new challenges. While I am experiencing a mix of emotions as I move into this next chapter of my career, as Director of Programs at Elizabeth Fry Toronto, I am happy to be able to continue doing meaningful and impactful work in the community. The decision for my transition did not come easily as I am extremely proud of all that CAYR has accomplished during the past 7 years. I will hold dear to my heart all the relationships I have built during my time here.
I want to give my deepest gratitude to all who have been so supportive of the organization and of me personally over the years: staff, Board members, volunteers, service users, and, of course, our partners and funders. Without all of you, the organization would not be as strong and vibrant as it is. I am so honored to have been the leader of this incredible organization and will watch with much excitement and anticipation as it continues to grow and make an incredible impact in York Region.
Warm regards,
Vibhuti Mehra
Executive Director