HIV is not what it used to be. Many people with HIV describe it as a chronic condition and a manageable part of their life.
HIV prevention is not what it used to be, either. The simultaneous rise of "undetectable equals untransmittable" (U=U) and pre-exposure prophylaxis (PrEP) caused a radical change in the way we talk about HIV transmission and prevention: We now have more tools than ever to prevent HIV. We now confidently say that people living with HIV on effective treatment can't pass it on to a sexual partner.
Sometimes a major change is needed to spark new ideas and efforts. The promise of using PrEP and U=U in combination to end the HIV epidemic has inspired a paradigm shift in HIV programs, one that is already having an impact on HIV transmission in some places.
New York City has pioneered an approach that re-orients HIV-related services using an "HIV status neutral" philosophy. A status-neutral approach to HIV care means that all people, regardless of HIV status, are treated in the same way. It all starts with an HIV test. Any result, positive or negative, kicks off further engagement with the healthcare system, leading to a common final goal, where HIV is neither acquired nor passed.
The model works like this:
A person is diagnosed with HIV. That person is linked to treatment engagement and can begin HIV treatment that same day. They are continuously provided with high-quality care that keeps them coming back and staying healthy with an undetectable viral load. They will not pass on HIV through sex.
Or, a person tests HIV negative. They are linked to the prevention engagement side. For some people, that means starting PrEP or post-exposure prophylaxis (PEP) immediately. For others, it means ongoing testing for HIV and other sexually transmitted infections (STIs). If they remain engaged, they will have the tools to remain HIV-negative and stay healthy.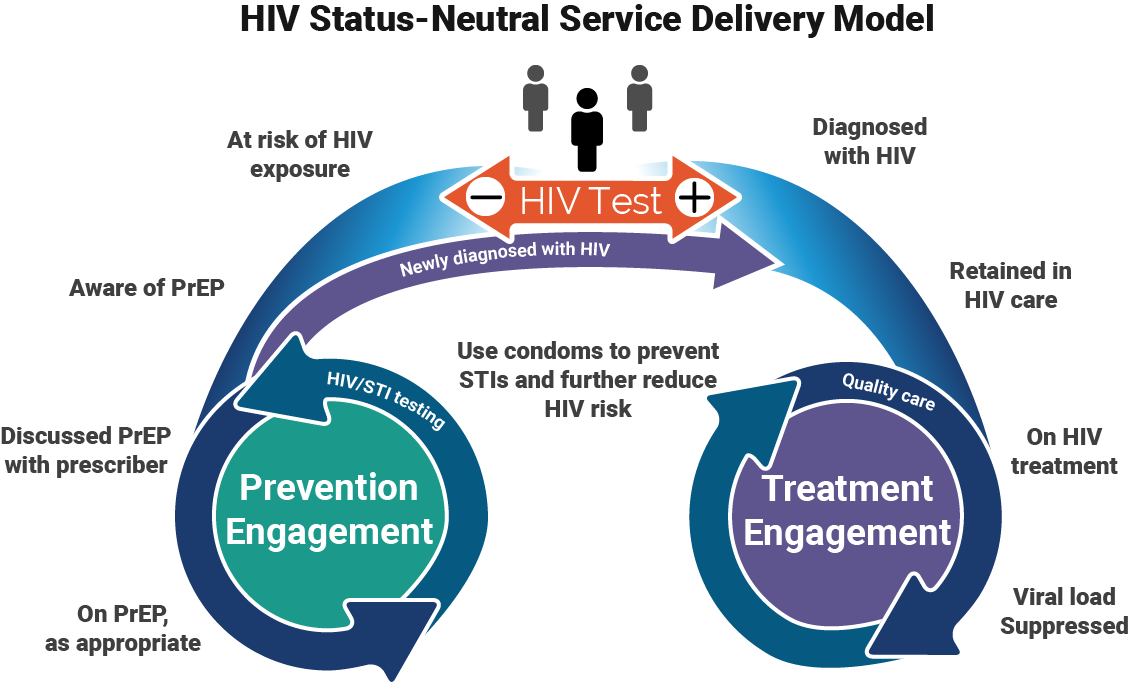 Using a strategy like this requires intention, planning, and long-term follow through. It also involves efforts to reach and engage people who are at high risk for HIV. In New York City, the Department of Health has been a huge champion of this strategy. They transformed public STI clinics into sexual health clinics that offer comprehensive HIV services and act as gateways into HIV prevention and treatment programs. They've also run large public health campaigns to promote PrEP, treatment as prevention, and the status-neutral concept, using sex-positive ads targeted to specific populations that are disproportionately affected by HIV.
And it's working. In 2017, New York City had a record low number of new HIV diagnoses, down about 35% since 2013, when the status-neutral concept was first introduced.
"Status neutral" resonates with community advocates who feel it has great potential to provide better care for people living with or at risk for HIV.
John McCullagh, a member of the Champion Team of Toronto to Zero, believes this is a model that could and should be applied here in Canada. "This balanced approach of linking clients to ongoing services can help normalize routine testing and offer care options for both HIV-positive and HIV-negative people in a de-stigmatizing way."
For this concept to work, however, we must have certain measures in place. As John explains, "Promotion of a status-neutral continuum of care depends on strong partnerships and integration of services to ensure that both the prevention engagement and the treatment engagement pathways have as few barriers as possible for clients to navigate."
When done effectively, rapidly linking newly diagnosed people to HIV treatment and those who test negative to ongoing prevention programs will help us to dramatically reduce new HIV infections, support positive people to thrive with and beyond HIV and reduce health disparities where they continue to exist.
Camille Arkell is manager of harm reduction, HIV prevention and testing at CATIE. She has a master of public health degree in health promotion from the University of Toronto, and has been working in HIV education and research since 2010.
This content was originally published on Oct 14 2019 by CATIE, Canada's source for HIV and hepatitis C information