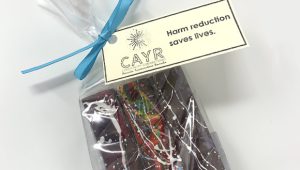 It was a few years back now that we established this partnership between CAYR and Cocoa40's #Chocolate4Change Campaign
Fundraising for non-profits is a crucial undertaking, and CAYR works hard at being able to raise funds and donations for our Practical Supports program and Compassion Fund.  What better way to try doing it with some chocolate in the mix!
This mouth-watering chocolate is designed with colours that were chosen to represent our programs of HIV, Hep C, Harm Reduction and Rainbow Space (2SLGBTQ+).
And soon you can enjoy this and other delectable's in person at their new store, which will be nestled along the historic and charming Main Street in Newmarket Ontario. Opening date will be confirmed on their website.
Our Practical Supports program and Compassion Fund focus on needed assistance for some of York Region's most vulnerable. This includes things like gift cards for food, clothing needs, transportation, medical assistance, emergency and/or utility bills.
Supporting a good cause with a chocolatey return, how can you beat that?
You can also think of the purchase as a two-fold gift, a donation to CAYR and the present of this beautiful bar for a friend or loved one. There are so many occasions to enjoy this treat; Christmas, Easter, Valentines…. A random Monday throughout the year. 🙂
Show your support to a local business and a local non-profit, coming out a winner with a tasty treat!