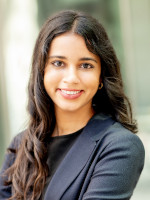 Wynonna Gomes (Pronouns: She/Her)
Member at Large
Wynonna is a CPA with experience spanning over five years in professional services within the Financial Services, Real Estate, Asset Management, and Non-Profit sectors. Currently working as a management consultant, she specializes in helping leaders align on and implement business strategies and priorities while navigating complex change. She is passionate about ensuring everyone's voice gets heard and strives to bring diverse perspectives to the table during the decision-making process.
In addition to her commitment to serve on the Board of CAYR Community Connections, Wynonna volunteers with Endeavour Consulting for Non-Profits, where she is now a Co-Director of Learning & Development. She also volunteers as a mentor for the 2SLGBTQ+ and BIPOC community at her alma mater, Queen's University.