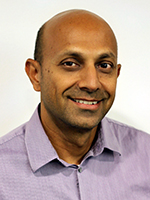 Nishit Shah (Pronouns: He/Him)
Secretary
Nishit is a marketing communications specialist and has 5 years of experience in the HIV/AIDS sector through his work at the Peel HIV/AIDS Network (PHAN) and CATIE. He is currently working at the Canadian Cancer Society where he leads their email-based fundraising and communication activities.
Nishit is originally from Kenya and landed in Canada over 20 years ago. He now calls Markham home and can be often found yelling "hurry hard" or "sweep" at the Unionville curling club. He is also a father, a keen cyclist and also spends time volunteering with non-profit agencies that assist new immigrants to settle in Canada.