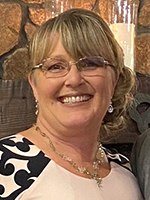 Michelle Sudeyko (Pronouns: She/Her)
Vice Chair
Michelle Sudeyko started her career with a diploma in Marketing from Humber College in Toronto, ON. That diploma has led her on a business path with a focus on Marketing; Sales; Fundraising; Leadership; and Facilitation. She has been working with Crestcom International for over 14 years in the Leadership Development space helping organizations increase the core competencies of their leadership teams for a path in growth and innovation. Though she did not start her career in training and development, Crestcom became a perfect fit for her.
Michelle has lived in York Region for the past 30 years with her husband and 4 children. Over the years, she has volunteered with many organizations within the community. She plans to continue helping out where she can in the years to come.