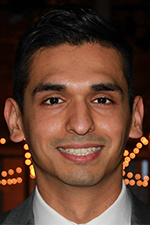 Gavin Demonte (Pronouns: He/Him)
Chair
Gavin has been connected with the organization for close to 4 years now holding various positions as a volunteer and as a Board Member. Starting off in the Resource Development Committee, he got an early look into the challenges an agency like CAYRCC (CAYR Community Connections) faces when it comes to fundraising in the vast York Region.
Gavin has been an active volunteer at CAYR Community Connections (or, "CAYRCC") for the last 4 years initially starting in the agencies Resource Development Committee. Shortly thereafter, he joined the Board as a Member-at-large taking on the Secretary position in an Interim basis and at the 2019 AGM took over the position of Chair. Since then, he has successfully led and been a part of several major milestones in the agencies history like strategizing and formulating our agencies newest Strategic Plan and the re-branding from AIDS Committee of York Region (or, "ACYR") to CAYR Community Connections.
Gavin is extremely proud of his ongoing involvement with CAYRCC and deeply cares for the programs and services offered for those in need of them who quite often have many different barriers that make access to dignified and meaningful care a severe challenge. He maintains strong focus on the values of CAYRCC as he leads the Board through their governance ensuring action is always in the best interests of the organization.
Gavin has earned his Engineering degree, with honors, from the University of Ontario Institute of Technology, is a trained Lean Six Sigma Black Belt, and a Project Management Professional (PMP).