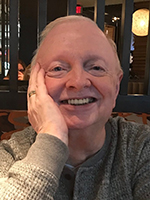 DJ McCready (Pronouns: He/Him)
Member at Large
Douglas McCready (prefers to go by "DJ") is a resident of Richmond Hill. DJ completed an undergraduate degree in Economics and Political Science from the University of Windsor and Masters from London School of Economics and Political Science, University of London. He moved back to Canada to get married and do his doctorate at the University of Alberta.
He held a tenured position at Wilfrid Laurier University in Waterloo in the economics department from 1969 to 2009 and has also taught on-line for Walden University, Capella University, Meritus University, and University of Liverpool where he taught Health Economics to MPH and MCR students.
He was Vice President of the Canadian Health Economics Research Association for over a decade and has been on the editorial boards of several academic journals and on the international executive of the International Institute of Public Finance.
In his most recent research since retirement he has been evaluating the use of selenium as a supplement or substitute for the antiretrovirals in people living with HIV/AIDS in Nairobi, Kenya and Kigali, Rwanda.
He has three sons and eight grandchildren and has a Filipino partner.