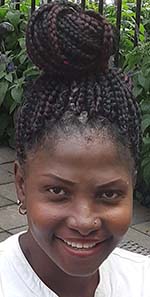 Aminat Alli-Agboola (Pronouns: She/Her)
Member at Large
Aminat Alli-Agboola is a social worker with over 12 years of experience working with not-for-profit organizations. She graduated with a Bachelors' degree in Sociology from Lagos State University, Lagos, Nigeria. She has been living positively and openly with HIV since she got to know about her diagnosis in March 2004. She founded the Health Education & Skills Development Initiative (HESDI), formerly positive Youth Initiative Nigeria (PYIN), in 2005. She has a range of work experience in the social services sector – Community Outreach Officer, AIDS Alliance in Nigeria (2005); MIPA Workplace Advisor/Project Assistant for Nigerian Business Coalition Against AIDS (2007 to 2014); Coordinator, Network of People living with HIV/AIDS in Nigeria, Lagos State Chapter (2014 – 2016) and Housing Worker, Haven Toronto (August 2018 – August 2019).
In addition to serving on the Board of CAYR COMMUNITY CONNECTIONS, Aminat also volunteers for AIDS Committee of Toronto (ACT), Black Coalition for AIDS Prevention and Toronto People with AIDS Foundation (PWA). She has an understanding of working with People Living with HIV and other vulnerable community members, helping them access community services and maintaining their health.